I'm writing you this week with some more updates from The Vapors Basement Book Tour. I expect after this week things may slow down somewhat and I might even be able to get back to sending out proper letters again. But for now I appreciate you indulging my self promotion.
I've done a number of appearances from here in my basement, and quite a few of them are available to watch online now. For the most part I say the same thing in every interview. But I've been so honored to get to be interviewed by so many talented and brilliant people so far, and each of them brought something new to the conversation, which has kept me on my toes. Here are some of the ones I found archived on YouTube and Facebook:
With The Ringer's Sean Fennessey for The Strand
With Oxford American's Jay Jennings for Square Books
All by myself for Garland County Library
With Georgia Public Broadcasting's Virginia Prescott for the Atlanta History Center
With David Roth and Patrick Sauer for Greenlight Books
With the Arkansas Democrat Gazette's Rex Nelson for the Six Bridges Book Festival
I have also appeared on some podcasts and radio and television shows and I've spoken to a couple of Rotary Clubs and book clubs as well. If you have a podcast or a radio show or you're a Rotarian or Elk or Odd Fellow or anything like that and you'd like me to talk to you and your audience about The Vapors, please get in touch. Always be closing, that's what I like to say.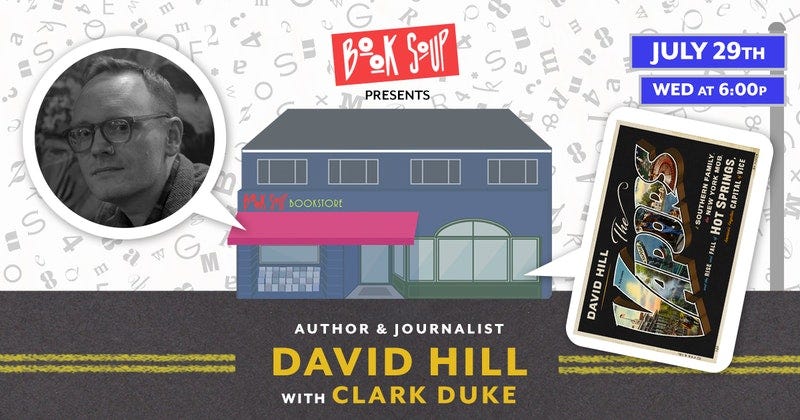 Tomorrow night I'm doing my next basement book tour appearance for Book Soup in Los Angeles. I'll be talking with Clark Duke, who many of you may know from The Office or Two and a Half Men or Veronica Mars. Well Clark, like me, grew up in Arkansas and he wrote and directed the hit film Arkansas, which also came out this year, and which has a number of scenes shot in Hot Springs. So it's a banner year for Hot Springs cameos in popular culture. And we're gonna get all into it tomorrow night if you want to tune in. Just click here for all the details about how to log on and join us. And if you haven't bought the book yet, I'm sure Book Soup would appreciate it if you bought one of the thirteen copies they have left in stock.
Speaking of buying the book, it appears to be on backorder in a lot of places, which is great news, because it means it is selling! The frustrating thing is that because of the pandemic, it's taking a little longer to get more books to places that have already sold out. However there are still places that have copies of the book for sale, like Barnes & Noble. Better still, there are signed copies available as part of the First Editions Club at Lemuria Books.
And for those of you who have already purchased the book, thank you. One day when the dust settles from the pandemic and I leave this basement again, I look forward to going to actual physical bookstores again and maybe even signing some books and shaking some hands. Remember shaking hands?
See you tomorrow night on the internet,